Long-term Care (LTC) planning
Avoiding debt, contributing to your 401(k) and IRA, living within your means, saving for your children's education – you've done all the right planning throughout your life to retire comfortably. Then boom. You or your spouse needs long term care assistance which is expensive and it totally blows up all the planning you have done. You might think your risk is low, but the majority of Americans will need some form of long-term care. We'll get to the number later, but the point is your risk is likely much higher than you think. Successful long-term financial planning is all about risk management, so everyone should be cognizant of this major potential liability.
Another scenario is that you're saddled with needing to care for your aging parents who just can't handle day-to-day activities on their own. It's an expensive proposition that could happen during your working years. Either you re-prioritize your life to care for your mom or dad, or you come up with the huge cost of having a professional look after your parent(s). It's a tough decision, and something many Americans are faced with each year.
It doesn't have to be this way though. For many people, the time is now to develop a plan in the event LTC is needed for you or a loved one.
How likely is it that you or your parents will need LTC?
According to the U.S. Department of Health and Human Services (DHHS), 69% of Americans will need some form of care in their later years. 59% will get help from family & friends (usually a female adult child), 42% pay for in-home care, 35% go to a nursing facility, and 13% end up in assisted living.
A major risk is an uncertainty around the duration of LTC services. For most, about half of those needing some form of care, it's just up to 3 months. But imagine the financial burden you will face if your parent needs LTC for more than 5 years. 1 in 10 men and almost 2 in 10 women experience that length of time for LTC needs.
LTC Planning (JP Morgan research)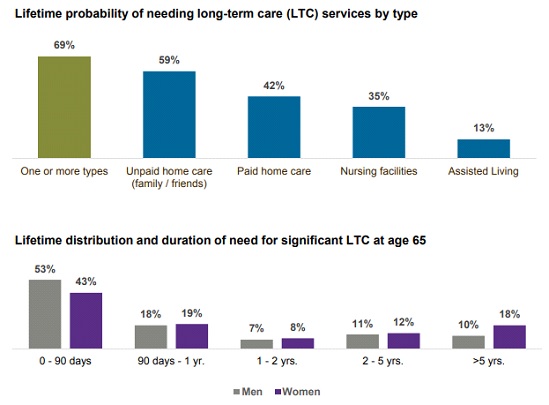 What are the costs of LTC?
The estimated cost of in-home care is about $50,000 per year. Assisted-living is about $50,000 as well. Even more costly is a nursing home facility – which runs about $9,000 PER MONTH. These are sobering numbers, to say the least. Without proper planning, LTC can put a huge dent in our retirement plans. The good news? Planning can start today. We can work together to mitigate the risk based on your objectives and preferences.
AARP notes that one in four Americans aged 65 today will encounter over $50,000 in lifetime out of pocket LTC expenditures. 9% of individuals will spend at least $250,000. The good news? The DHHS found that 63% of people will spend $0! It can be feast or famine, but you can't just roll the dice that everything will be fine.
Managing risk
Most Americans will end up needing some form of LTC for some amount of time. There is lots of uncertainty, especially concerning costs. How do we protect ourselves from the risk? LTC insurance is an option.
LTC insurance
LTC insurance is typically purchased by individuals in advance of retirement – usually during the ages of 50 to early 60s. You don't want to wait beyond your early 60s otherwise the monthly premiums go through the roof. The 50s is also an ideal time since you are probably already looking ahead to retirement, but you still have a good income and savings potential. What's more, your kids may be out of the house and you could be in the fortunate position of having your mortgage paid off. Identifying your goals and risks is natural during this stage of life.
You can buy LTC insurance for you and your spouse, but as if often the case, adult children purchase LTC insurance for their parents. Due to the costs, the kids may divvy-up the premiums among themselves – if everyone is on board. That can be a tough situation on its own! If you are an adult child of aging parents, you too should consider the risks of LTC expenses.
Types of policies
A traditional LTC insurance policy will cover personal care in various living arrangements for elderly individuals who cannot manage on their own. A policy pays a daily amount to insurance holders. Qualifying care tasks include bathing, eating, and dressing in nursing homes, assisted living facilities, and skilled care at home. Premiums for LTC average nearly $3,000 per year according to LifePlans industry research.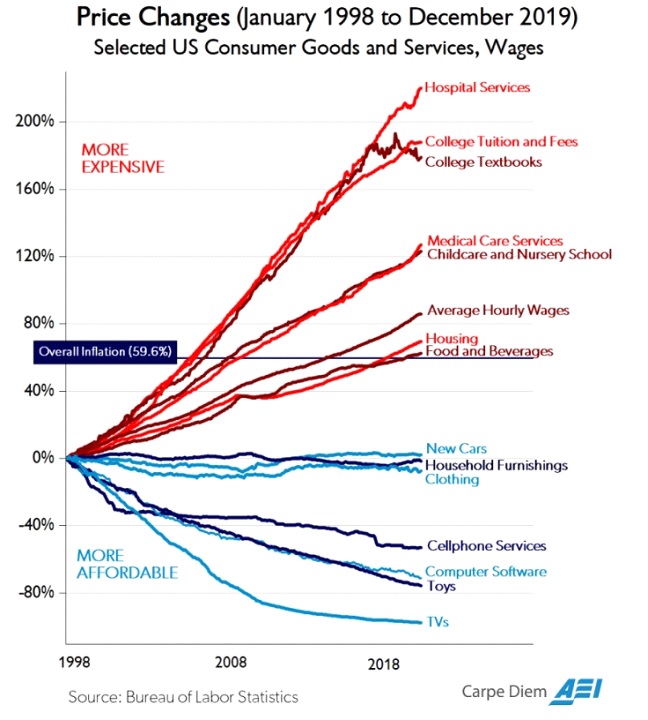 A hybrid LTC insurance policy combines features of life insurance with traditional LTC insurance. The financial services industry can craft interesting products, and this one could fit your needs if you can afford a hefty up-front lump-sum premium. A hybrid policy locks in your monthly premium and provides a death benefit in the event insurance is not used for LTC expenses.
Determining which type of policy is best for your situation can be challenging. Traditional LTC policies often feature cheaper monthly premiums, but inflation for health-related expenses has been very high in the last few decades (price change chart to the right via the American Enterprise Institute), so there's the risk your premiums could increase. Also, hybrid policies usually require a large up-front lump-sum payment that is simply cost-prohibitive to many Americans. The upside to the hybrid type is that you don't 'use it or lose it' as the death benefit can be quite valuable in the event the insured does not incur LTC needs.
The bottom line is if you are nearing retirement and do not yet have a plan for LTC, the time is now to sit down with us to develop a strategy. If you are an adult child with aging parents, you should also consider the 'what-if' of your mother or father (or both) needing some form of LTC. Generally, I am not a big fan of insurance but in this case I feel it is worth the time to explore the benefits of LTC vs the cost.
About Gary
Gary Cassell is president of Premier Wealth Advisory Services, an independent, fee-only wealth management firm. With over 25 years of experience in the financial industry, Gary is passionate about helping families, business owners, and executives live their lives by design, not by default, through personalized wealth management and unparalleled service. Gary earned a bachelor's degree in physics from Hastings College and is a long-time resident of St. Louis, where he lives with his beautiful wife and two wonderful children. When he's not working, you can find Gary spending time with his family, hiking, playing tennis, walking, and brewing beer. To learn more about Gary, connect with him on LinkedIn.